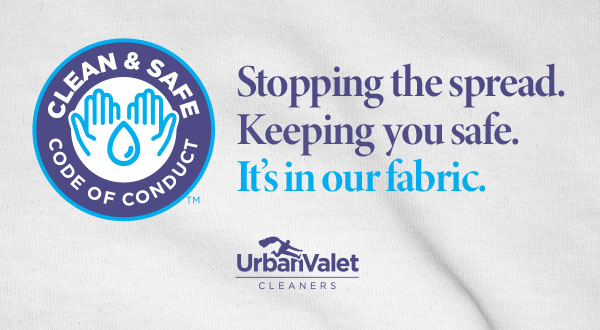 Our CLEAN & SAFE Code of Conduct is our new normal, woven into our store operations, route delivery service and every step of our cleaning process. As the first in our industry to employ a comprehensive safety plan for the protection of our customers and employees, we will continue to implement new CDC recommendations as they become available and also spearhead industry best practices for the benefit of the greater WNY community.
All Staff Members:
• Daily Temp Readings
• Mandatory Facial PPE
• Routine Hand Sanitization
Delivery Service:
• No Contact Delivery
• Free Nylon Bag Cleaning with Every Use
• Safe, Clean, Plastic Garment Covers
• Routine Van Cleaning & Sanitization
Retail Stores:
• Plexiglass Barrier
• Daily Store Cleaning & Steriliziation
• Facial PPE
Processing Facility:
• Routine Facility Cleaning & Sterilization
• Cross Contamination Prevention Protocols
• Safe Handling Protocols
Your Garments:
• Free Nylon Bag Cleaning with Every Use
• Temporary Freeze on Reusable Bags
• Cleaned Using Only Germany's Finest "Kreussler" Detergents, Sanitizers & Softners.

Back to Blog